Welcome to The University of New Mexico!
We're excited to count you as part of the pack and to see you here on our beautiful campus. Click here to get started and register for your housing.
See it for yourself with our virtual tour.
Whether it be information about safety and security, or you'd like to see all of our residence halls, our Virtual Tour video will help you become more acquainted with what we have to offer and imagine coming home to The University of New Mexico.
Living on campus is about more than having a place to rest your head. It's about the experience! From our Living Learning Program to events and activities, you'll find a variety of experience outside the classroom.
Registration is open for Spring 2021 and academic year 2021/2022.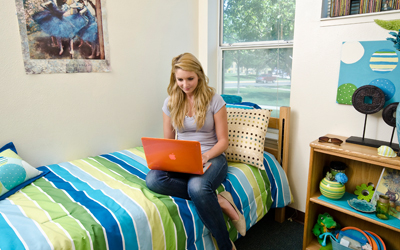 As a Resident Lobo, you will thrive in our vibrant, healthy communities. For information on how to get connected to your community, contract information, expectations and conduct, and more check out Current Residents.  
Priority Renewal will open for academic year 21/22 in early February.
UNM's Freshman Residency Requirement has been waived for 2020-2021.
Click here to learn more.
Get the most out of your campus life
Everything you need to know to get you on your way.