Priority Renewal
Priority Room Renewal for Fall 2023...
IS NOW CLOSED!
ACCESS THE RESIDENCE DASHBOARD
You can still be an Early Bird if you missed out on Priority Renewal.
Simply register for UNM Housing before May 1st to be an Early Bird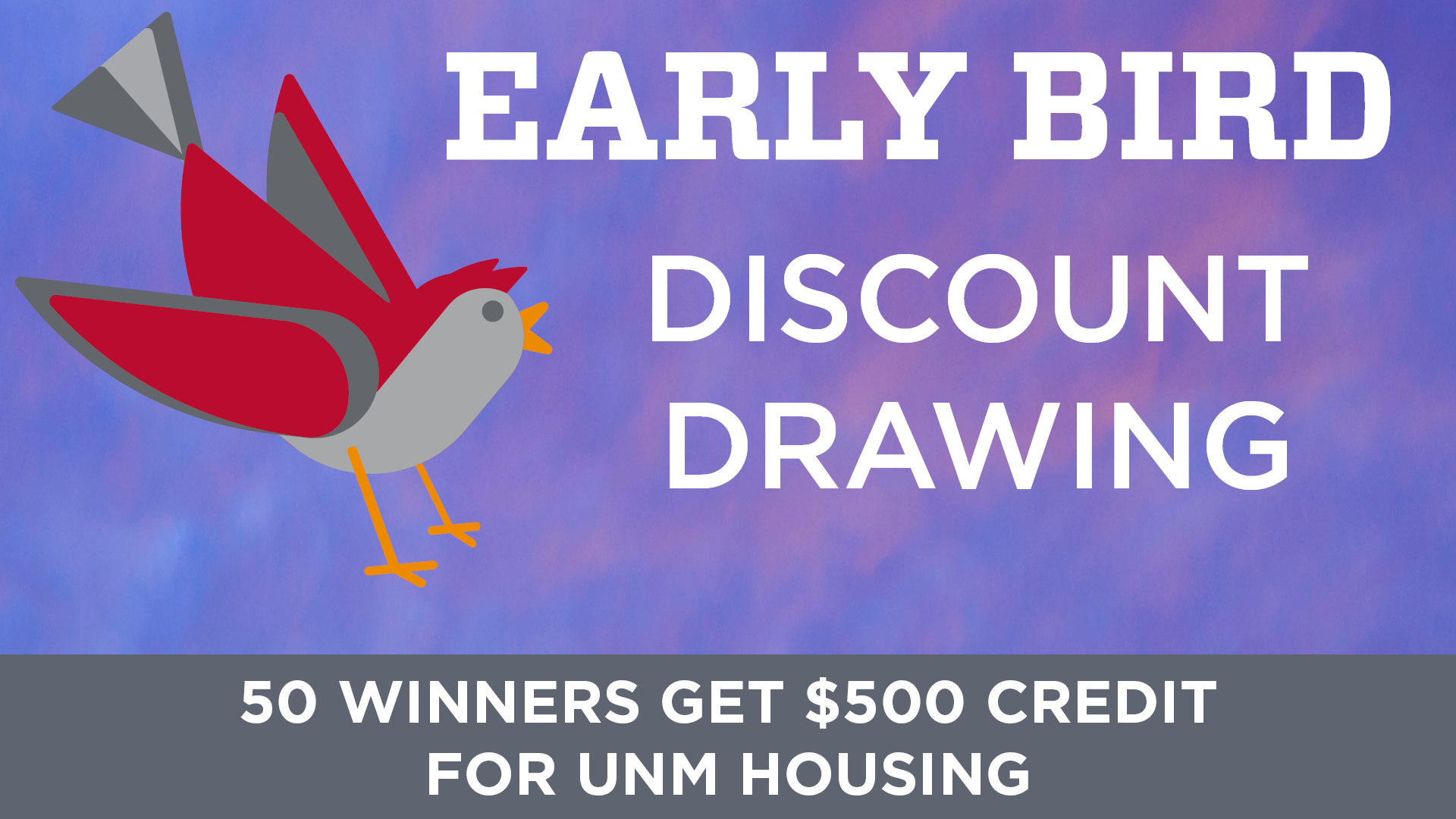 Early Birds get earlier selection of room, building, and roommate (after the Priority Renewal group). 50 Early Bird winners will be selected at random to receive a $500 credit on their bursar's account for UNM Housing.
What is the Early Bird Drawing?
50 winners will be drawn randomly for a $500 credit on their Fall 2023 housing charge. This is a limited time offer and you must submit your housing registration by the May 1 Early Bird Registration date to be eligible.

How does it work?
We will apply a $500 credit on the winners' Fall 2023 bursar's account after Drop/Add (mid-September). Winners must maintain eligibility to live in UNM housing and fulfill their 2023-2024 Housing License Agreement for the entire agreement period. If a resident breaks their License Agreement the, $500 will be forfeited. (Exceptions: graduation or military activation)
Key Dates for Early Birds
Early Bird Roommate Match:
Early Bird Room Selection:
So What's Next For Priority Renewal?
They look long, but they're simple!
ACCESS THE RESIDENCE DASHBOARD
STEP 1: REGISTER
FEBRUARY 2 THROUGH MARCH 12
The first step is to fill out the Renewal registration. Head to your Residence Dashboard. Choose to keep your same room, select a new preference (1 of the 5 options listed below), or let us know you're returning, but don't have a preference. If you choose to stay in your same room, your process is complete and you'll be set with your space with the following year.
Renewal Registration Preference Options
Same Room in Any Building
Same Room, in an LLC
Join and LLC or Change Rooms in an LLC
New Room or Move to Main Campus
New Room or Move to Lobo Rainforest
A little, BIG reminder: Keep in mind absolute cut-off date for renewal registration. Renewal registrations will not be accepted after this date and you will have to submit a regular registration with a $50 registration fee and you will lose your priority selection. So register early and get all the benefits of Priority Renewal!
STEP 2: PRIORITY RENEWAL ROOMMATE MATCH
OPENS MARCH 20 @ 1pm, CLOSES MARCH 26 @ 11:59pm
After the registration is submitted, you will be able to log into your Residence Dashboard and select a roommate(s). If you know who you want to room with, enter their roommate code and make sure they do the same. If you are looking to select several roommates for an apartment, create a roommate group. We suggest choosing the most responsible person in the group for this job because they will be in charge of choosing your room when it comes time.If you don't know who you want to live with, complete the match process to find a new friend!
Here's a quick recap of how to choose your roommate(s).
STEP 3: PRIORITY RENEWAL ROOM SELECTION
OPENS MARCH 28 @ 1pm, CLOSES APRIL 4th @ 11:59pm
Now the fun part! Once steps 1 and 2 are completed, you will receive an email with a time slot for the earliest time you can select your room for next year. The selection times are based on your class classification (grad students go first, then seniors), and then the time you submitted you registration. So the earlier you apply, the higher priority you receive! Select your room within your time slot to have the best chance of getting what you want. Someone else's time slot will open after yours and that's another person potentially looking at the same room! For roommate groups, the group leader, the responsible one we told you about in step 2, will get the time slot for the whole group.
Check out our how to video for a step-by-step guide to the registration!
housing@unm.edu
505.277.2606 24/7 Help Desk