Moving In for Fall 2023-2024
We are so glad you will be joining us this fall!
Our move-in process is different this year so if you are a returning resident, please read this carefully for the changes.
Check in is by appointment only. So check your UNM email for confirmation of your selected check-in day. Go to your Residence Dashboard to apply for your move-in day.
New information regarding fall move in and instructions for move in will be released on June 8th.
Info regarding the last day to sign up for Early Move-in will release on Aug 1. 
If you will be an after-hours or late night arrival, please email housing@unm.edu so that we can make note of it and make arrangements for your check-in
All residents will check in via a drive-up process hosted in the Redondo Village parking lot (yellow area). Please note that the entrance at Princeton and Central will be closed. Visitors will enter campus at Stanford and Central and proceed east via Redondo South. Please review the map and plan to approach the check-in process from Redondo South to the check-in area indicated in yellow.
Click HERE to access our interactive move-in map for Fall 2023-24 move-in!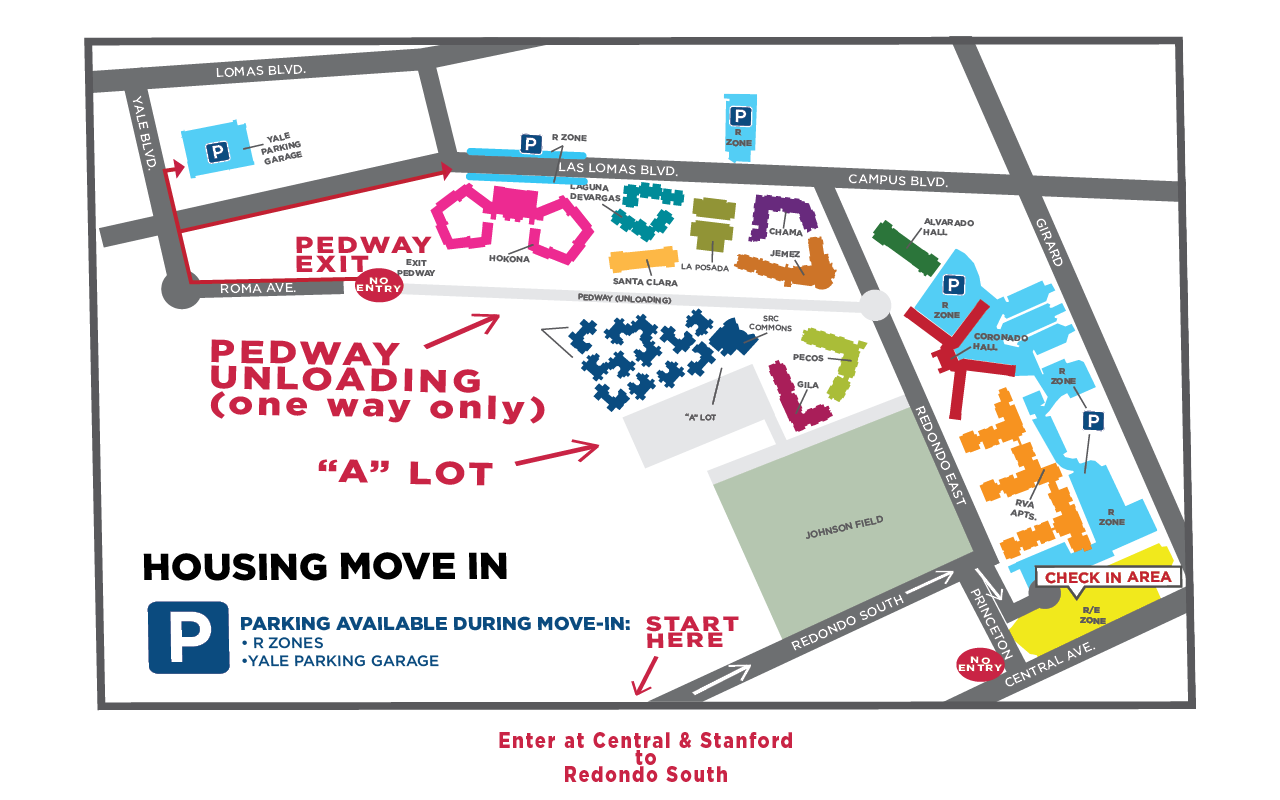 The check in process will include:
Pick up your UNM ID (LoboCard) if you are a new student
Pick up your room keys and your Welcome to UNM Housing kit
Pick up your UNM Parking Permit if you have purchased one
Get a ABQ Ride (Albuquerque bus system) sticker for your LoboCard
After you finish the Parking and Transportation tent, you will be given directions to your residence hall to unload. Please remember that there are many fellow Resident Lobos coming to move-in as well, so be a brief as possible while unloading.
Important Notes:
Lobo Rainforest Residents will check in on main campus using the same drive up process.
LoboCards – Your UNM ID / LoboCard serves as your access control for living in UNM Housing. If you are new to UNM, please be sure you have uploaded your photo to LoboCard so they can have your ID printed and ready for pick up. If you are a returning UNM Student have lost your card or do not have the new card with the proximity chip in it, you will need to contact LoboCard to arrange for a replacement. If you have questions, please contact us at 505-277-2606 or housing@unm.edu.
What to Bring:
Personal identification docs (driver's licence, passport, SS card)
Pillows, blankets and sheets for an extra-long twin bed (or full size sheets)
Shower caddy with toiletries (soap, shampoo, toothpaste, etc.)
Robe, towel & flip flops, slippers or slides
Laundry supplies (High Efficiency liquid laundry soap)
School supplies
Basic cleaning supplies
First aid supplies Dishes & utensils
For your convenience, we have partnered with Dormify to provide an easy, affordable way to purchase Twin XL bedding, dorm storage solutions, and everything else you'll need (and want) for your new home away from home. Please visit dormroom.com/unm to get move-in day ready and create your dream dorm!
More Questions? Click for answers: