Of all the unique styles that can be found in our community, none is more distinctive than Laguna/DeVargas Suites (LDV). Each suite consists of a combination of single and double rooms with a shared bathroom. Accommodating up to six residents, each suite offers slightly more privacy than the traditional halls but the same great community atmosphere. Both Laguna and DeVargas buildings have large common areas with full kitchen and laundry facilities where you can meet, eat and wash your clothes all at once.
Carpeted rooms
Single and double rooms
Two, three or four bedrooms with a shared bathroom
Student lounges on each floor
Large solid wood closets and built-in dresser drawers
Co-ed on an alternating suite basis
Head to our YouTube page to take a virtual tour of Laguna DeVargas. Click here!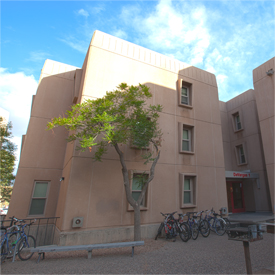 ---
Living Learning Programs
Engineering: A community for residents interested in the field of engineering, including large workspaces for collaboration and study; connects students to academic resources through the Engineering Department.
Fine Arts: Connects residents interested in the field of fine arts, including music, dance, theater, art, and other performance mediums; provides residents with academic resources through the Fine Arts Department.
Science: A community for students interested in in Biology, Chemistry, Earth and Planetary Sciences, etc. Students will engage outside the classroom through dedicated multi-purpose study. 
Global Focus: A unique living environment for residents interested in international studies and foreign languages; connects students to the resources at the Global Education Office and to foreign language coursework.
---
Community
Community Association meetings on Tuesday nights at 8:30, check the signs throughout the buildings for the location. Be there!
---
Recreation Area
Laguna/DeVargas Basements, open 24/7
---