Redondo Village Apartments (RVA), housing 397 residents, features four bedroom, one bathroom fully furnished apartments. Apartments are single-gender, but the building floors are co-ed. RVAs position between Johnson Field and historic Nob Hill, as well as its popular happening spot The Hut, makes it a great location for all of the after-class happenings.
Single occupancy rooms (four per apartment)
Fully furnished with living room/dining room and kitchen as well as a bath suite with separate lavatory, shower and vanity areas
Exterior courtyard with barbeque grills, benches and tables
Building floors are co-ed, and apartments may be arranged as co-ed if all roommates agree and consent.
Head to our YouTube page to take a virtual tour of Redondo Village Apartments. Click here!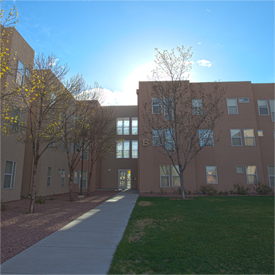 ---
Living Learning Programs
BA/MD Program: a living community that supports the BA/MD Degree Program through the College of Arts & Sciences and the School of Medicine.
---
Community
Community Association meetings on Tuesday nights at 8:30 pm in the Hut, be there!
---
Recreation Area
The Hut
Open Sunday-Thursday 7:00 pm – 11:00 pm
---